The tribal truck is a 1988 Nissan stake bed truck with a V-6 and dual rear wheels. The theme is sort of a mock tribal thing drawing inspiration from indigenous cultures around the world. The conversion from a boring commercial vehicle to a stunning work of mobile art has just begun. The following pictures show the beginnings of it's evolution. Who knows what it will eventually look like?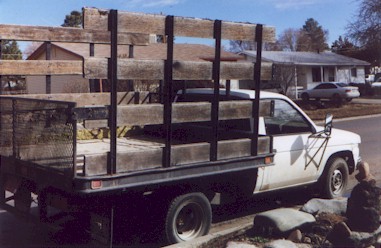 Here's the "before" picture. As you can see, it's pretty ordinary.
*
*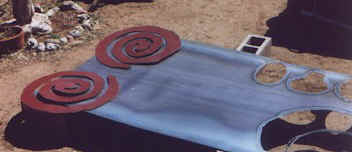 I bought a big sheet of 16 gauge steel and borrowed a cutting torch and got to work cutting out these spirals and some tribal mask shapes. I also found what are called skeleton plates. These are the left over pieces of steel after a bunch of metal parts are laser cut out of them. The resulting throwaway pieces are quite interesting looking as you will see...
*
I removed the wood from the stakes and put these skeleton plates on instead. Then I bolted the painted spirals to the sides. The side plates are painted purple, green, and blue as are the wheels.