March 31, 2001
Missing Maps and Bush's War on the Environment
by Royce Carlson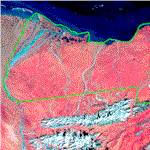 Earlier this month Ian Thomas, a map maker for U.S. Geological Survey's Patuxent Wildlife Research Center, posted a map of the caribou calving areas in the Arctic National Wildlife Refuge on the U.S.G.S. web site. As a result he got fired. His offense: drawing attention to wildlife that might be affected by drilling.

The web pages were immediately taken offline but Ian managed to save copies of the maps and now they are posted on a private web site at http://www.maptricks.com along with information about his work and his firing by the U.S. government. He is a minor casualty in the Bush administration's propaganda campaign for his war on the environment. Already Bush is planning tremendous damage to our air, water and wild lands:
He has canceled efforts to decrease the amount of arsenic in our drinking water.
He is repealing laws that protect the environment from pollution by the activities of mining.
He wants to drill in the Arctic National Wildlife Refuge even though there is only a six-month supply of oil that will not affect U.S. oil prices in the least and won't be able to deliver a drop for 10 years.
He wants to explore for oil, gas, and coal under other National Monuments in the lower 48 states and is proposing changing the rules for national monuments to allow this.
He wants to reverse recent laws protecting roadless areas in some of our national forests.
He is canceling a U.S. commitment to the world community by refusing to cut carbon dioxide emissions by even 5%. Since the U.S. produces 25% of all greenhouse gases it would be an important contribution to the slowing of global warming but the Bush administration won't do it in spite of mounting pressure from Europe and Japan to honor the commitment.
All this and he has only been in office for two months! This guy must be stopped.

Any one who wants their children and grandchildren to have clean air to breathe and clean water to drink must get involved to stop Bush from his plans to devastate the environment.

Here are some resources to get involved:

Ozone Action - http://www.ozone.org/
Washington, DC based non-profit public interest organization focused exclusively on two atmospheric threats: global warming and stratospheric ozone depletion Friends of the Earth - http://www.foe.co.uk/
The largest international network of environmental groups in the world, represented in 58 countries Action Network - http://www.ActionNetwork.org/
Take action for the environment… just by replying to your email!

For more environmental web sites visit Zenzibar's Environmentalism category at http://zenzibar.com/beta/directory.asp?cat=PE

Visit www.maptricks.com to see the missing maps of the Arctic National Wildlife Refuge and also check out these articles about Ian Thomas' situation:

Federal Worker Is Fired in Wildlife Refuge Map Flap
http://www.latimes.com/news/nation/20010315/t000022700.html

Oil and Websites Don't Mix -
http://www.wired.com/news/politics/0,1283,42536,00.html

The picture at the top of this page is a Landsat image of part of the
Arctic National Wildlife Refuge from Ian's site - Maptricks

You can reprint articles on the Zenzibar web site for free. I am happy to help provide content for your publication as long as I get credit.
To use an article in a print publication you must credit the author and Zenzibar Alternative Culture as the source, and include the web site address.
To republish a Zenzibar article on your web site you must credit the author and Zenzibar Alternative Culture as the source and include a clickable link to Zenzibar at http://zenzibar.com Please tell me if you are going to reprint an article by e-mailing me and mentioning the name of the article and where and when it will be published.
To link to the article on Zenzibar's site you can do a text link without any restrictions (you don't even have to tell me, but it would be nice to know).
If you want to use the image associated with the article you are welcome to use it as long as you don't change it or use it in any way other than to link to the article at Zenzibar. Also, please tell me if you are going to use the graphic. If you have any questions, please contact me.

Thanks!

Royce Carlson