Art Cars
Art cars are automobile customization gone wacky. Creative people with a little time on their hands can turn a nondescript, almost-ready-for-the-junkyard car into a mobile work of alternative art. There is practically no limit to the strange ways in which art cars are customized. Weird paint jobs, outrageous fins, protuberances and glued or bolted-on items make these vehicles real head turners. Some of these vehicles are composed of more than one car welded or bolted onto another. Itís amazing some of them can still be driven!

We, at Zenzibar, have our own art car Ė Ricky the Fish. He is a 1981 Toyota Corolla that was so rusted out it took duct tape to hold it together. As a more permanent solution we got out the fiberglass and bondo and got to work creating fins and gills and slowly the Toyota began turning into a fish! Ricky is an ongoing project. There is no telling what he will look like a year from now. Thatís part of the fun of having an art car other than making people laugh wherever we go.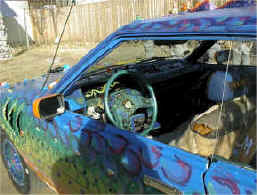 If you want to see some art cars on the Web, check out Art Cars in Cyberspace. They have a gallery of art cars to look at. Also visit The Art Car Museum. If you want to see art cars in person, you can go to San Franciscoís Art Car Fest. Some of these sites also list art car events around the U.S. If you want to make your own art car, browse Zenzibarís Art Car category for individual art carsí sites, some of which give helpful hints and ideas on how they made their cars. Also listed are a few sites on Lowriders, another strange way to treat a vehicle.
So, now that you are armed with all this great information, go out to your garage and start gluing stuff to your car. Join the art car revolution!

Return to