October 14, 2001
Eccentric America - by Jan Friedman
A book review by Royce Carlson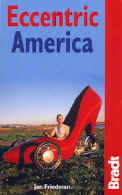 Pasaquan, a compound in Georgia filled with totems, pagodas and paintings, was designed to house Edward Martinís unique mystic religion. Martin, who proclaimed himself St. EOM, didnít cut his hair for 40 years, dressed in jeweled robes, and stiffened his beard upwards with rice paste. He is just one of many eccentric individuals who have created bizarre roadside attractions across the United States.
Or how about the Bread and Puppet Theater and Art Museum in Glover, Vermont? You can see a surreal collection of huge puppets that are used in political demonstrations, see entertaining puppet performances, and enjoy the free bread that is given out after each show.
You can find information on these and almost a thousand other wacky, out-of-the-ordinary attractions across America in "Eccentric America," a new book by Jan Friedman. The book contains an extensive listing of the weirdest and strangest events, museums, festivals, and attractions in the United States.
Imagine leaving your home in California (for example) and heading out to visit relatives in New Jersey. This doesnít have to be a boring trip. Using Eccentric America as a guidebook, you can create bizarre adventures as you travel across the U.S. Visit the Katydid Insect Museum in Arizona, and, if it happens to be July, you can move on to Roswell, New Mexico where the Roswell UFO Encounter Festival and Intergalactic Food and Fashion Extravaganza is taking place. If you think the drive across the center of the country is dull, you havenít stopped at the right places. From the Totem Pole Park in Oklahoma, to Carhenge in Nebraska, there are plenty of strange things to see on your way and all are listed in Eccentric America.
Friedman writes in an entertaining, tongue-cheek-style style. You canít help but laugh when reading some of the descriptions. When describing the Forevertron, a giant steel sculpture park in Wisconsin, she writes, "Inventive in vision and astounding in scope, the Forevertron is a gargantuan contraption designed to shoot Dr. Evermore into space using some kind of 1890ís magnetic lightning beam propulsion that only he understands." The attractions are catalogued not only by state, but also by type and date (if the attraction is an event), so it is easy to find just the kind of weirdness you are looking for.
I found this book not only entertaining but inspiring as well. Itís exciting to see what other eccentrics have created given enough time and a place to do it. Eccentric America makes me want to take a road trip!
Visit the Eccentric America web site to find out more about the book and about where you can get it.
Eccentric America, by Jan Friedman, is published by Bradt Travel Guides UK. It is published in the U.S. by the Globe Pequot Press.
You can reprint articles on the Zenzibar web site for free. I am happy to help provide content for your publication as long as I get credit.
To use an article in a print publication you must credit the author and Zenzibar Alternative Culture as the source, and include the web site address.
To republish a Zenzibar article on your web site you must credit the author and Zenzibar Alternative Culture as the source and include a clickable link to Zenzibar at http://zenzibar.com Please tell me if you are going to reprint an article by e-mailing me and mentioning the name of the article and where and when it will be published.
To link to the article on Zenzibar's site you can do a text link without any restrictions (you don't even have to tell me, but it would be nice to know).
If you want to use the image associated with the article you are welcome to use it as long as you don't change it or use it in any way other than to link to the article at Zenzibar. Also, please tell me if you are going to use the graphic. If you have any questions, please contact me.
Thanks!
Royce Carlson