March 25, 2001
The Real Defenders of Freedom
by Royce Carlson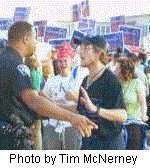 Every May in the U.S. we have a holiday called Memorial Day. It is to honor those who fought in wars to defend the United States and its allies against aggressors. Very often, the military is considered the defender of freedom and the American way of life. Although armies have done that in the past for Americans, it hasnít been that way for over 50 years. The real defenders of freedom are radical activists.
Surprised? Donít be! If you think about the freedoms you enjoy today you will realize that those freedoms are the result of activism, not military power. Blacks would still be slaves if it werenít for activists. Women would still be unable to vote if it werenít for activists. There would be no American Disabilities Act, no unions, and no civil rights amendment. Without activists our water and air would be more polluted than it is and workers would be little more than slaves. There would be very little protected open spaces and freedom of speech would be only a dream.
If you want to serve your country and serve the cause of freedom, donít join the army. Become a political activist instead. Be proud to stand up to power and corruption. Be proud to defend Americaís citizens by standing against those that seek to diminish our rights. Itís not easy work. The pay is low or non-existent and the battles can be long, dangerous and confusing. There is a real risk of death or imprisonment. It is heroic work and very necessary.
When you think of America as a free country, thank activists for making it so. If they were not constantly watching our government and industries for unfairness, greed, and corruption, and speaking out against it, America would not be free.
How can you honor the activists that have fought and died for our freedoms? Become one!
You can reprint articles on the Zenzibar web site for free. I am happy to help provide content for your publication as long as I get credit.
To use an article in a print publication you must credit the author and Zenzibar Alternative Culture as the source, and include the web site address.
To republish a Zenzibar article on your web site you must credit the author and Zenzibar Alternative Culture as the source and include a clickable link to Zenzibar at http://zenzibar.com Please tell me if you are going to reprint an article by e-mailing me and mentioning the name of the article and where and when it will be published.
To link to the article on Zenzibar's site you can do a text link without any restrictions (you don't even have to tell me, but it would be nice to know).
If you want to use the image associated with the article you are welcome to use it as long as you don't change it or use it in any way other than to link to the article at Zenzibar. Also, please tell me if you are going to use the graphic. If you have any questions, please contact me.
Thanks!
Royce Carlson