August 20, 2001
Burning Man Again!
by Royce Carlson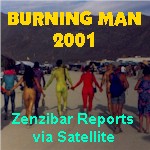 This is our third year going to the Burning Man Festival and our most ambitious one yet! Why do we do this? Here's my take on the importance of Burning Man to our culture and why thousands of us spend inordinate amounts of time and money to create this temporary community in the Nevada desert.
If you don't know what Burning Man is all about, I recommend you visit their web site. They can tell it best. Here's my description: It's an incredible experiment in community that involves acceptance of diversity, indulgence in your fantasies, creative expression of all kinds, sharing in the spirit of true community, freedom from advertising, a gifting economy and loads of fun. Last year approximately 25,000 people attended (my guess). This is the 16th year of the event and it has changed my life and the lives of many, many others.
Burning Man has already influenced mainstream culture and, unless you have attended the event, you would never know it. I have seen many TV ads filmed in locations that look a lot like the ancient lakebed where the event is held. I have seen things at Burning Man and then seen similar things turn up in advertising, magazines, etc. Technological experiments are tried at the festival that eventually make their way into the mainstream, and people meet at Burning Man, get inspired, and then go on to making new things happen in society and business. I have no actual examples of this, just a strong feeling about it.
The Burning Man organization is very protective of itself and the community regarding commercial use of images taken there. It is such a powerful potential influence that many corporations seek to attach themselves to the energy of the festival. This, they strictly forbid. Yet, each year, more and more articles are written about Burning Man in mainstream newspapers and magazines. This month's issue of National Geographic has an image from Burning Man on the cover and I have heard that they will be there filming this year. It's that powerful an event.
I, for one, am pleased and honored to be a part of it. In fact, everyone who attends is urged not to be a spectator, but to participate in any way they can. From wearing wild outfits to creating huge interactive art pieces, and from surveying and laying out the streets to greeting people at the gate, there are hundreds, if not thousands, of ways to contribute to the fantastic experience for all.
Some people spend all year planning their camp or their art. Some spend thousands of dollars of their own money to create something for the festival. Why? We do it because we know we are a part of something important. We do it because we feel like, for once, that we belong to a real community that will accept us - even embrace us - as we are, and we want to give back to a community that gives us so much.
Black Rock City (the name of the temporary community) may only exist physically for a week, but it lives year round in the minds and hearts of those who have been to Burning Man and felt at home.
If you are interested in following the event on the Web, first of all visit the Burning Man website. Second, we are going to try to post images and text from the event on our web site via a satellite uplink. This didn't work last year, but we hope that this year things will work.
If the web-casting doesn't work this time, I will post a report after the event.
We are exhausted and excited at the same time! We can't wait to get back to Black Rock City.
You can reprint articles on the Zenzibar web site for free. I am happy to help provide content for your publication as long as I get credit.
To use an article in a print publication you must credit the author and Zenzibar Alternative Culture as the source, and include the web site address.
To republish a Zenzibar article on your web site you must credit the author and Zenzibar Alternative Culture as the source and include a clickable link to Zenzibar at http://zenzibar.com Please tell me if you are going to reprint an article by e-mailing me and mentioning the name of the article and where and when it will be published.
To link to the article on Zenzibar's site you can do a text link without any restrictions (you don't even have to tell me, but it would be nice to know).
If you want to use the image associated with the article you are welcome to use it as long as you don't change it or use it in any way other than to link to the article at Zenzibar. Also, please tell me if you are going to use the graphic. If you have any questions, please contact me.
Thanks!
Royce Carlson